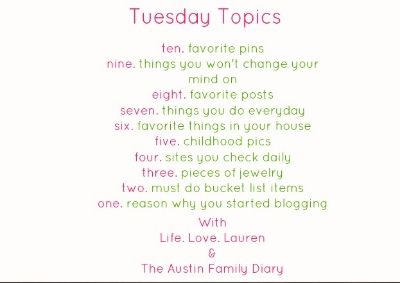 9. Marriage
-Its a covenant, a promise, and a commitment and it shouldn't ever be broken.
8. Winter-
My favorite season of the year, not matter where I live.
7. He has a plan-
My God had a plan for me. It will be better than anything I could ever hope for or imagine.
6.A Mug a day-
I will always start my day with a cup of coffee, always. Without fail.
5. Feeling Blue-
It's my favorite color and I will continue to buy clothing items that color even though it seems to be the only color I wear.
4. Sushi-
Turn up your noses if you wish but this just so happens to be the most delicious food on the planet....(Well besides coffee, of course.)
3. My Path has been Paved-
Everything that has happened in my life, good or bad, has been the Lord's will.
2. I'm Blessed-
The Lord has blessed me with an amazing family and the best set of friends a girl could ask for.
1.My Faith-
I stand firm in it.