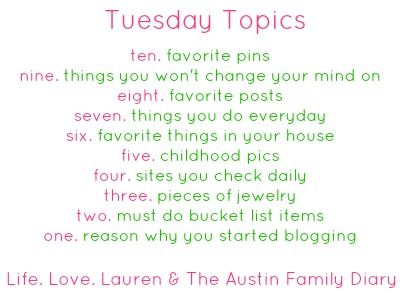 Silly me, I just realized that I mixed up week 7 and 8. So, looks like I'll be doing week 8 this week! Here are my 8 Favorite Posts:
1. Here I go with another shameless shout-out to my girl
Sarah!
Check her out, she's awesomely amazing!
2.While I may not be married, this post reminded me how many things there is to be thankful for! Check out
Marquis!
3. Lacey always makes me giggle, this post was one of my favorites!
Why You Won't Catch Me On Survivor
4. I recently discovered a wonderful blogger. Erin, from Sweetness Itself wrote a post called,
5 Things I Love
, that I thought it was so cute!
5. I would definitely say that this is the one post that started it all. Who doesn't love Kate from the Small Things Blog? So thanks Kate, for loving what you do and inspiring me to make a decision that would change my life.
Starting a Blog
6. I can't get enough of Lauren's blog. (Previously know as, From My Grey Desk) I absolutely LOVE this idea. I'm obsessed with making lists so this one is for sure one I need to start to write every week.
Happy List
7. Emily is such a great blogger. I can tell by the way she writes that she has such a sweet spirit. I loved this post she wrote about
How To Be A Godly Woman
It was amazing! I can't wait to read the rest of the series!
8. Can't help but give another one from Lauren's blog, she's too awesome. In this post, she challenges us to
Choose Joy
. A choice I need to make more often!